V2 Skin Treatment, often known as "beauty booster" is an injectable treatment to hydrate the skin.
What is the V2 Skin Treatment?
V2 hydration treatment is a type of micro-dermal filling with a focus on hydration. Most dermal fillers are made from Hyaluronic Acid (HA), but the difference with the skin boosters, compared with other dermal fillers, is that they do not offer structural support. Dermal fillers that are used to treat deeper wrinkles, hollow areas, lifting and definition or lip enhancement will still be needed.
The V2 filler treatment is different to other skin hydrators on the market, as most skin boosters are manually placed needles (or micro-cannulas) into the areas to be treated. This treatment however, uses a unique "V2 Injection gun" that has a multiple-9-needle system that stamps the skin in a 5cm square area. It can be programmed to a certain depth for sensitive skin and it can accurately tailor the amount of product delivered. Also, by providing the collagen-stimulating, "needling technique" and filler at the exact same time, it eliminates a two-process treatment. It is designed to inject this softer, liquid filler just under the skin, offering hydration whilst not bulking up the skin.
Our Sydney clinics use a special HA skin boosting formula. This new micro-filler is combined with a unique patented formula of effective, essential natural components of amino acids, antioxidants, minerals, and vitamins.
Due to government regulations, we are unable to use drug or brand names of filler. All our skin hydrators are TGA approved.
If you have a question regarding any of our procedures please fill in the form below
V2 Filler "Beauty Booster" Treatment Before and After
1 – V2 Filler Treatment for under eye wrinkles & skin texture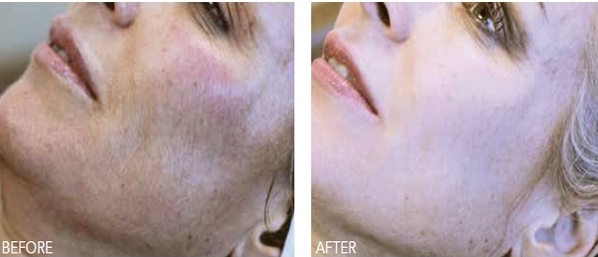 2 – V2 Filler Treatment for skin texture, smile & cheek wrinkles
3 – V2 Filler Treatment for neck wrinkles & skin texture
4 – V2 Filler Treatment for skin texture, hydration and fine lines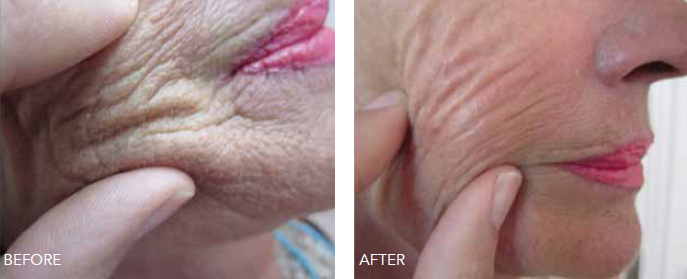 5 – V2 Filler Treatment for skin texture, hydration and wrinkles to lower face
What are the benefits of the V2 Filler or "Beauty Booster"?
The treatment can target concerns a out:
Skin hydration and glow to the skin
Texture of fines lines of the skin
Elasticity, tone, and thickness of the skin
Surgical and acne scars
Appearance of thin skin
What to expect after?
Redness and swelling maybe visible for 24hr-48 hrs
Blotchiness and small visible bumps over the treated area for 24-48 hrs
Bruising may last 5-10 days. Make-up can be worn in 12 hrs
Results are seen after 24-48 hrs
Full results are noted a few months after your 3rd treatment
How long will it last?
We recommend 3 sessions, 1 session per month and a maintenance dose of 2-3 times a year
This has the added advantage of combining two treatments skin needling and hydrating filler into one treatment
Additional option – Micro-toxin (muscle relaxant) can be added to the filler syringe, 3-6 monthly to help address concerns about pores, fine lines, scars and texture
What can we treat?
The whole face, décolletage, neck and/or hands
Target specific areas: under the eyes up to the lashes, upper lip lines and smile lines
Suitable for all skin types
Not for pregnant, breast feeding, or IVF patients
Not if had Roaccutane in last 2 years
Is the procedure painful?
Numbing cream will be applied for 45 min prior
Local anaesthetic is also in the filler
Local anaesthetic nerve block for low pain threshold is also offered
Nitrous gas (laughing gas) usually isn't required, but is offered
Post- treatment, icing is used to decrease pain and reduce risk of bruising
How long does the treatment take?
A 30 min. procedure is performed after numbing cream has been applied for 30-45 min, prior to appointment.
What is the cost?
Face, neck, decolletage and hands (both hands), EACH requires 3 mls
Cost $650, per area
Additional Option: Micro-toxin is added at a minimal extra cost

Here at Form & Face, we provide patients with a
Lifetime followup guarantee
This means that we will be there for you far beyond the recovery period.
You can rest assured knowing that you can come to us about any
post-surgical concerns for the rest of your life.