Laser Skin Rejuvenation Sydney
All-inclusive price – no hidden fees
Performed with our brand new industry-leading Sciton laser
In-office treatment supervised by Dr Benjamin Norris
We are always happy to answer questions about laser skin rejuvenation via phone 02 9387 3800 or if you prefer, use our super quick and easy online form. You can now even chat with us on Facebook Messenger!
Laser skin rejuvenation treatments are always in demand at Form and Face. They are non-surgical and provide an affordable way to help skin look and feel more beautiful. We are committed to seeing each patient as an individual. Our bespoke skin rejuvenation and a superior patient experience provided by our dermal laser clinicians keep our waiting rooms filled with men and women who want to have fresh, youthful looking skin.
The secret to our success is the Sciton laser suite. A state-of-the-art "modern miracle," this single machine allows us to offer a broad range of skin-saving solutions tailored to our patients' unique needs.
If you have a question regarding any of our procedures please fill in the form below
7 Reasons People Choose Laser Skin Rejuvenation
The reasons people give for wanting laser skin rejuvenation treatments are as varied as the people themselves. That being said, Dr Norris has identified 7 key issues that motivate people to visit us. They want to
Increase healthy collagen production
Improve appearance of wrinkles
Improve appearance of pores
Tighten skin
Even-out skin tone
Remove sun damage, brown marks, and age spots
Bring out skin's naturally radiant glow
Why Patients Visit Form and Face for Laser Treatments
It's important to remember that the success of any machine-assisted treatment lies in the experienced hands of the operator. Our dermal laser clinicians are expert at solving anti-ageing and problem skin conditions. Our brand new, top-of-the-range Sciton skin laser technology is the "miracle machine" that helps them achieve unsurpassed results.
The Sciton is a multifunctional system that incorporates three distinct skin-rejuvenating technologies:
BBL (IPL) Light Treatments – Broadband Light/Intense Pulsed Light treatments with the Sciton laser produces younger looking skin that's more even in tone and texture, and firmer, too.
Profractional Treatments – Profractional lasers target thousands of pinpoint areas in the skin. Healing of each pinpoint addresses skin problems such as photo damage, poor skin tone and texture, wrinkles and scars.
Halo Hybrid Treatments – The third prong of the Sciton laser is actually a combination of two lasers. The Halo uses both ablative and non-ablative technology to reduce pore size, improve tone and texture, and eliminate years of skin damage with remarkably short down time.
As with all skin treatments we offer at Form and Face, laser treatments are customised, depending on a patient's skin concerns. Thanks to the Sciton laser, we can use a combination of lasers to achieve the best possible results in the one treatment, for no extra cost. To create your customised treatment plan, our dermal laser clinicians evaluate your skin and discuss your options, so that you're informed (and excited) about the next step.
Regardless of your age or skin type, one of these technologies will almost certainly be ideal for you.
Snapshot: A Good Candidate for Laser Skin Rejuvenation
If you are
In good health
A non-smoker
Have realistic expectations about the impact laser skin resurfacing will have on your life
If you are an excellent candidate to become a patient at Form and Face. Our dermal laser clinicians can help you address a wide range of skin complaints including:
Scars from acne
Uneven skin pigmentation
Non-responsive skin after a facelift
Fine lines or wrinkles around or under the eyes, forehead, or mouth
You may not be an ideal candidate if you have active acne or very dark skin. This is not a decision you have to make on your own, however. Our experts will talk things over with you and decide on the best approach to beautifying your particular skin.
Profractional Laser Skin Resurfacing
Profractional laser treatments are among the most advanced anti-ageing skin treatments available in Australia. The profractional laser precisely targets damaged skin, leaving the surrounding skin untouched. After the treatment, the areas of treated skin
Promote deep collagen remoulding
Plump up skin
Improve skin texture
Smooth out wrinkles, lines, scars and other irregularities
Profractional Laser is safe and effective for most skin types. The results patients achieve are long lasting and accumulative. Our patients also experience more improvement with each subsequent treatment. Skin rejuvenation with a profractional laser causes little discomfort and downtime can be as brief as 2-4 days.
Laser Skin Rejuvenation Before and After – Real patients, real results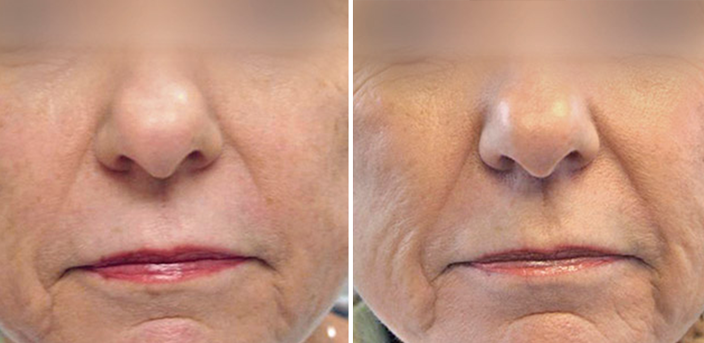 Halo Fractional Laser
We are thrilled to offer our patients treatment with Halo, the world's first and only hybrid fractional laser. It has the never-before-available capacity to deliver two laser wavelengths to a single microscopic treatment zone. The dual-power of Halo lasers precisely targets years of damage to the skin and effectively treats:
Discolouration
Sun damage
Visible signs of ageing
Uneven skin tone
Enlarged pores
Poor skin texture
Fine lines
Skin reflectivity and glow
Patients are thrilled with the results we achieve with this advanced hybrid treatment. Our dermal skin clinicians give Halo treatments high marks because they:
Can treat pigmentary issues, as well as wrinkles and pores
Are less painful than traditional fractional resurfacing
Provide excellent results which can be achieved in only one or two treatments
Healing is accelerated and generally complete in 3-4 days
Like other laser treatments, the Halo Laser can be combined with Photo Rejuvenation in the one treatment, for even more outstanding results, for no extra cost.
Micro Laser Peel
A Micro Laser Peel precisely removes a thin layer of damaged, outmost skin.
This skin-beautifying treatment was designed for those seeking better results than from microdermabrasion or light chemical peels, and who have little time for a prolonged healing process.
Micro laser peels at Form and Face can help you
Improve texture
Provide a more youthful, healthier, and more vibrant appearance to skin
Provide a smoother appearance.
A micro laser peel can be customised for individual needs and results. Many patients refer to it as a "weekend peel." It's possible to have a treatment on Thursday or Friday, spend the weekend recovering, and then return to work the following Monday, looking naturally refreshed and more youthful.
Depending on your skin concerns, a Micro Laser Peel session can be combined with other treatments including Photo Rejuvenation, Profractional Laser, Halo Laser and Skin Tightening.
Skin Tyte: Laser Skin Tightening
This fast, virtually pain-free treatment utilises IPL (intense pulse light) technology to create beautiful skin. Skin Tyte deeply heats skin cells while cooling and protecting the entire treated surface. Areas of the body that may be improved with Skin Tyte include:
This laser skin rejuvenation treatment:
Creates a new foundation of collagen
Improves skin firmness
Provides a more youthful appearance to the skin
After your treatment, you may initially experience some mild redness. For the majority of patients, that redness disappears in a matter of minutes. Multiple treatments spaced between two and four weeks apart are necessary to achieve optimal results. Full results take up to four months to manifest as the collagen foundation of the skin is rebuilt and strengthened.
BBL Hair Removal
BBL Hair Removal is one of the fastest hair removal treatments on the market. Thermal energy is used to damage follicles, ultimately creating a permanent reduction in hair growth. BBL hair removal is an especially effective treatment. It minimises the number of spots that are missed during treatment, a common problem with other hair removal options.
BBL Hair Removal is a safe, fast and comfortable aesthetic treatment. There is minimal impact or risk to the skin. In a week or two, the treated hair simply falls out. A series of treatments is required as individual hairs have different growth cycles.
4-6 weeks for facial hair removal
6-8 weeks for body hair
BBL hair removal treatments compound their effectiveness, permanently reducing hair growth.

Here at Form & Face, we provide patients with a
Lifetime followup guarantee
This means that we will be there for you far beyond the recovery period.
You can rest assured knowing that you can come to us about any
post-surgical concerns for the rest of your life.