Breast Lift and Implants (Mastopexy with Augmentation Mammoplasty)
Elective cosmetic procedure
Possible rebates from Medicare and private health insurance if you have children between the ages of 1 and 7 years.
Day procedure only
The best candidates for breast lift surgery with implants are women who not only have lax breasts but have also lost fullness in their upper breast area. Laxity of the breasts is common in women who have breastfed or lost significant amounts of weight. A breast lift (mastopexy) and implants (mammoplasty) can restore fullness to the breasts, if both elevation and additional volume are desired by the patient.
If you have a question regarding any of our procedures please fill in the form below
Breast Lift and Implants (Mastopexy with Augmentation Mammoplasty) Before and After
Before and After Breast Lift and Implants (Mastopexy with Augmentation Mammoplasty) 01
Before and After Breast Lift and Implants (Mastopexy with Augmentation Mammoplasty) 02
Before and After Breast Lift and Implants (Mastopexy with Augmentation Mammoplasty) 03
Before and After Breast Lift and Implants (Mastopexy with Augmentation Mammoplasty) 04
What happens during the first consultation?
During your initial consultation with Dr Norris, he will focus on what you hope to achieve with this surgery. He will also evaluate your breasts by assessing the skin tone and breast tissue, noting the position and size of the nipples and taking the necessary measurements.
A graph showing the grading of lax breasts:
How is a breast lift with implants (mastopexy with augmentation mammoplasty) performed?
Photographs will be taken for your medical records. Dr Norris will then discuss how the operation is performed and where the incisions are placed. At the end of this initial consultation, you should have a very good idea of what is possible for you. You will then be provided with a detailed surgical quote which outlines your surgical options and the related costs for each.
If you decide to proceed with surgery, Dr Norris will see you for a second consultation. During the second consultation, you will decide on a date for your surgery and Dr Norris will tell you how to prepare for the procedure.
Your breast lift and augmentation (mastopexy with augmentation mammoplasty) procedure will always be performed in a fully-accredited hospital. Prior to your procedure, you will meet with Dr Norris and the anaesthetist who will administer your generally anaesthetic.
The average operation will take anywhere from 2.5 – 3 hours and may require an overnight stay in hospital – Dr Norris will advise you of this during your consultation.
There are a number of techniques that can be used to lift and alter the size and shape of the breasts. This means that scarring can vary after the procedure too. Dr Norris has trained extensively in short-scar techniques, which are aimed at minimising the amount and length of scars. This technique mostly involves restricting your scar to one that encircles the areola (periareolar scar) and one that passes downwards from the areola to the fold beneath the breast (vertical scar).
This is commonly called a lollipop lift as it resembles a lollipop. In some cases, it is possible to only use a periareolar incision. Unfortunately, not all women have breasts that are suitable for the short scar technique.
Once the necessary incisions have been made, excess skin and breast tissue will be removed. The nipples may also need to be repositioned to achieve the desired appearance.
Your implants will then be inserted behind (submuscular), in front of the muscle (subglandular) or half and half (dual plane). There are pros and cons to each of these options, which Dr Norris will take you through during your consultation. He will also ensure that you choose the right type and size of implant for your body shape.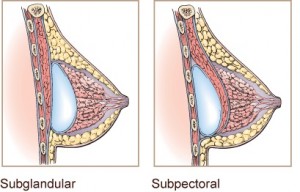 At the end of the operation, a drain might be placed beneath each breast. If this is the case it will normally be removed the following day. The incisions are closed with dissolvable sutures to save you the inconvenience of having to schedule a separate appointment to have them removed. A dressing is applied over the incisions and you will leave the hospital wearing a comfortable and supportive surgical bra.
What happens after the mastopexy with augmentation mammoplasty (lift with implants) surgery?
Most patients are able to go home on the same day as their surgery, while others will need to spend a night in the hospital. Your drains will usually be removed before you leave the hospital the next day.
You will require a friend, family member or partner to drive you home from hospital due to the aftereffects of the anaesthesia and because your range of movement will be very restricted.
Dr Norris will send you home with the necessary aftercare instructions as well as a prescription for pain medication and antibiotics if necessary. The aftercare instructions will also include information on how to care for your incisions to reduce scarring as much as possible.
You will not be able to drive for up to 1 week, so it's highly recommended that you get family or close friends to assist you during the first week of your recovery.
Daily short showers are permitted, provided your waterproof dressings are dried adequately.
Patients should sleep on their backs in an elevated position for the first 6 weeks – pillows will help keep you in a stable position during the night. Sleeping in this position will help reduce swelling.
You will experience the most discomfort in the first 3 or 4 days after the surgery.
Your breasts and nipples will be bruised, swollen, tender, and sensitive to touch but this will subside gradually.
Patients can return to work after 2 weeks of recovery. Additional recovery time might be required if your job is physically demanding.
Swelling may take up to 6 weeks to settle.
You can start light exercise after about 2 weeks of recovery. You can resume your normal exercise regime after 6 weeks if Dr Norris gives you clearance to do so.
You will have an appointment on day 3 after the procedure to check and change the dressings. This will also give Dr Norris the chance to make sure that your recovery is on track.
Possible complications
Rupture – Breast implants are not guaranteed to last a lifetime. Breast implants rupture when the shell develops a tear or hole. Ruptures can occur at any time after implantation, but they are more likely to occur the older the implant gets. Severe capsular hardening can also cause an implant to rupture. The implant will need to be replaced or removed.
Capsular hardening – Hardening around the implant is caused by shrinkage of the capsule, which forms due to the body's natural response to foreign material. When one breast appears firmer and looks different than the other, capsular contracture may have occurred. The implant, as well as the capsule, will need to be removed to correct this complication.
Haematoma – This is when blood collects in the breast pocket. It will either be absorbed into the body naturally or surgical drainage will be required at your surgeon's office. Symptoms include swelling, pain, bruising, skin that is hot to the touch and itchy breasts.
Infection – Infections are unpredictable and normally occur within the first 3 weeks after surgery. Any infection needs to be treated immediately with antibiotics.
Keloid Scarring – Keloid scars are regular scars that become raised, lumpy and darker than the rest of your skin. If this begins to happen, please inform Dr Norris and he can look at treating it with steroid injections. Wearing the supplied silicone gel strips after surgery 24/7 will aid in preventing this from happening.
Numb Nipples – This is common and normally resolves itself after a short period of time. Sometimes it can take up to 6-12 months to regain full feeling in your nipples.
Asymmetry – Even though Dr Norris makes every attempt to create perfect symmetry, it is not always possible. It's best for patients to expect that some minor asymmetry might be visible after 12 months. Perfectly similar breasts are always possible naturally either, which is why realistic expectations are necessary before undergoing this procedure.
How much does a mastopexy with augmentation mammoplasty cost in Sydney?
It's difficult to determine an accurate cost without scheduling a consultation with Dr Norris first. Every patient has slightly different needs. For one, the amount of excess skin and tissue that needs to be removed will vary. The implants that you decide on as well as hospital and anaesthetist fees will also play a role in the final cost of the surgery. In terms of Medicare rebates, your breast lift surgery with implants (mastopexy with augmentation mammoplasty) may be covered if the ptosis is severe and specific conditions are met. A rebate can only be requested after surgery though – Dr Norris will take you through the process of applying for a rebate during your consultation.

Here at Form & Face, we provide patients with a
Lifetime followup guarantee
This means that we will be there for you far beyond the recovery period.
You can rest assured knowing that you can come to us about any
post-surgical concerns for the rest of your life.