Abdominoplasty (Tummy Tuck) Sydney
Specialist Plastic Surgeon
Dr Ben Norris FRACS
Follow-Up Guarantee
Care for the rest of your life
Accredited Hospitals
Not performed in-clinic
Non cosmetic and cosmetic procedure
Minimum 3 night stay in private hospital
Abdominoplasty, commonly known as a tummy tuck, is designed to target concerns about excess skin and tissue on the abdomen. The contour of the abdomen is affected by the quality and elasticity of the skin, the amount of fat deposits beneath the skin, and the laxity of the abdominal muscles – all these issues can impact both men and women.
It's possible that excess skin and fat that forms in the abdominal area might not improve, despite diet and additional exercise. The effects of ageing, pregnancy and childbirth, weight loss, and past abdominal surgeries can all contribute to excess skin and fat and weaken the abdominal muscles.
There are several different types of abdominoplasty surgeries, each of which is better suited to specific types of issues. Each of these procedures involves the removal of excess skin and fat and tightening the abdominal muscles. Liposuction might be needed at the same time.
It's important to note that abdominoplasty is not a weight-loss procedure. Patients will need to be in good physical health and be close to or have achieved their goal weight. Gaining weight again after the surgery can affect the results, so it's essential to lead a healthy lifestyle following surgery. It's also recommended that female patients only consider an abdominoplasty once they've completed their families. While abdominoplasty would never impact your ability to have more children, it will reverse the effects of surgery.
If you have a question regarding any of our procedures please fill in the form below
What happens at my abdominoplasty consultation?
Dr Norris will ask you what concerns you have regarding the appearance of your tummy and what you hope to achieve by having the operation. He will then assess the amount of excess skin and fat, the elasticity of the skin, and the laxity of your underlying abdominal muscles. He will also assess the nature of any old surgical scars and feel for hernia.
You may require a full abdominoplasty, lower abdominoplasty, or mini-abdominoplasty depending on the condition of your abdomen and desired results. Dr Norris will discuss in detail how the operation is performed and where the scar can be placed.
You will be given a surgical quotation and your options for surgery. In some cases, some of the surgical fee may be covered by Medicare and your Health Fund.
If you decide to proceed with surgery, Dr Norris will see you again at a second consultation.
Actual patient of Dr Benjamin Norris
How is the tummy tuck (abdominoplasty) operation done?
Dr Norris performs abdominoplasty in a fully accredited hospital. The anaesthetist that Dr Norris works with will give you a general anaesthetic. You can expect the operation to take 3-4 hours. These are the steps in an abdominoplasty procedure:
Step 1
The lower abdominal incision is made
Step 2
The skin is lifted (except
for the belly button)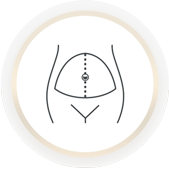 Step 3
The abdominal muscles
are tightened.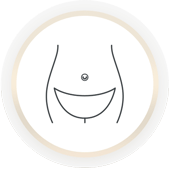 Step 4
The skin is pulled down
and excess removed
Step 5
The incision is sutured
1. The Lower Abdominal Incision is Made
If you are having a full abdominoplasty (tummy tuck), the incision (and the scar that subsequently forms) will be made across the lower abdomen at the level of your pubic hair and extend upwards and outwards on either side to your hip bones. Dr Norris will ask you to bring the type of underwear or swimsuit bottom you intend to wear after your operation to ensure the scar is hidden from public view.
2. The Skin is Lifted
The skin is lifted up from the abdominal muscles to the level of the rib cage. The belly-button (umbilicus) is released from the lifted skin and remains attached to the abdominal muscles.
3. The Abdominal Muscles are Tightened
The abdominal muscles are tightened to give you a flatter tummy and a smaller waist.
4. The Skin is Pulled Down and Excess Removed
The lifted skin is then pulled down firmly so that the excess skin and fat can be removed and the umbilicus is stitched into its new position.
5. The Incision is Sutured
If you are having a lower abdominoplasty (tummy tuck) only, the incision might still need to be as long as the incision for a full abdominoplasty, but the skin is lifted off the abdominal muscles only to the level of the umbilicus and the umbilicus does not need to be separated from the lifted skin and stitched back into a new position. If you are having a mini-abdominoplasty it might be possible to limit the incision and scar to the width of your pubic area and the umbilicus will not need to be moved.
Tummy Tuck Abdominoplasty Before and After – Real patients, real results
1 – Form & Face patient before and after tummy tuck abdominoplasty
2 – Form & Face patient before and after tummy tuck abdominoplasty
3 – Form & Face patient before and after tummy tuck abdominoplasty
4 – Form & Face patient before and after tummy tuck abdominoplasty
How much does a tummy tuck (abdominoplasty) cost in Sydney?
Abdominoplasty is a personalised procedure and every patient has different requirements, all of which will affect the final cost of the procedure. The type of abdominoplasty that you choose and whether or not you decide to add on additional procedures will all make a difference to the final cost. Your final quote will also include the specific hospital and anaesthetist fees. The only way to get an accurate quotation is to schedule a consultation with Dr Norris who can take all of the necessary factors into account. The only time that Medicare or your private health insurance provider will cover some of the costs of your surgery is if it's being performed for reconstructive reasons. Dr Norris can explain more about rebates during your first consultation.
What happens after the surgery?
Most patients will be instructed to stay in the hospital for a minimum of 3-5 days after abdominoplasty surgery.
You might have your drains removed in hospital. If not, these will be removed in Dr Norris's rooms at your next appointment.
You will require a friend, family member or partner to drive you home from the hospital as your range of movement will be restricted. You may also feel drowsy after taking the necessary pain medication.
Dr Norris will provide you with detailed aftercare instructions before you leave the hospital. You will also receive a prescription for pain medication.
You will not be able to drive for up to 2 weeks, so patients are encouraged to make the necessary arrangement prior to surgery.
Daily short showers are permitted, provided your waterproof dressings are dried adequately.
For the first 6 weeks after surgery, patients are encouraged to sleep on their backs, propped up by pillows. Not only will this make your evenings more comfortable but it will help reduce swelling too.
You will experience the most discomfort in the first 3 or 4 days after your abdominoplasty.
You can return to work after about 2 weeks, but if your job is physically demanding, it's best to take on lighter duties for the first 3 weeks.
Swelling may take up to 6 weeks to settle but wearing the compression garment will help.
You can start light exercise about 2 weeks after your procedure and can return to your normal exercise routine after 6 weeks, provided Dr Norris has cleared you to do so.
You will have an appointment in the clinic after you have been discharged from hospital to check and change the dressings and have your drains removed.
Possible abdominoplasty complications
Keloid Scarring – Sometimes, abdominoplasty scars can begin to look raised, lumpy and darker in colour. If this starts happening after your surgery, speak to Dr Norris about treating the scars with steroid injections. Wearing your supplied silicone gel strips after surgery 24/7 will help prevent this from occurring.
Haematoma – This refers to a collection of excess blood in the treated area. The blood is either absorbed naturally or will require surgical drainage. Symptoms include swelling, pain, bruising, skin that is hot to the touch and itchy skin.
Infection – While infections are unpredictable, they usually occur within the first 3 weeks after an abdominoplasty. Any infections should be treated as soon as possible with an antibiotic.
Seroma – It is possible for seroma fluid (leaking tissue fluid) to collect beneath the wound after the drains have been removed. If this happens, this fluid can be removed painlessly in the consulting rooms using an aspiration needle.

Here at Form & Face , we provide patients with a
Lifetime followup guarantee
ensuring long-term care & support